The Indian style nutrition packed yummy savory crepe, Moong Dal Chilla is prepared with yellow moong dal and has a paneer filling. Cheela, crepes, or pancakes are the most popular breakfast dishes all over the world. India's love affair with moong dal has manifested in many dishes across the regions. The most favourite remains the quintessential Moong Dal Cheela which is one of the easiest breakfast recipes to make. It is so simple to make and yet so delicious. With the addition of paneer stuffing, it turns into an awesome fulfilling breakfast meal. 
Moong dal is a storehouse of health benefits.
They are a rich source of protein and fibre that makes it a heart-friendly food too. These fibres can help lower cholesterol and prevents deposition of bad cholesterol in the arteries.
It also contains useful amount of potassium that may help keep blood pressure levels in check too.
One of the most significant benefits of moong dal is its role in facilitating weight loss.
It is also packed with nutrients like zinc, protein & iron, which help in maintaining the elasticity of skin, keep it moist and reduces the wrinkles.
Paneer filling also adds to the protein and calcium content.
Loaded with a wealth of weight loss benefits, a moong dal cheela is the best start you can give your day. Quick-to-prepare and made with bare minimum ingredients, this delicious snack should be on your diet plan. Being a powerhouse of nutrition, it indeed keeps you energetic all day.
Moong Dal Chilla Banane ki Vidhi
Directions
Moong Dal Chilla is an Indian pancake or savory crepe that is just like Dosa but made with soaked moong dal and a few more ingredients that add flavor to the same. The chilla can be prepared plain and served with chutney or dip and they can also be stuffed with some crumbled or grated paneer. To make them more nutritious you could also add some grated carrot, shredded cabbage, chopped capsicum, and some grated beetroot. Moong dal chilla can be made as a breakfast, snack, or even packed in lunch boxes.
Steps of Making Moong Dal Chilla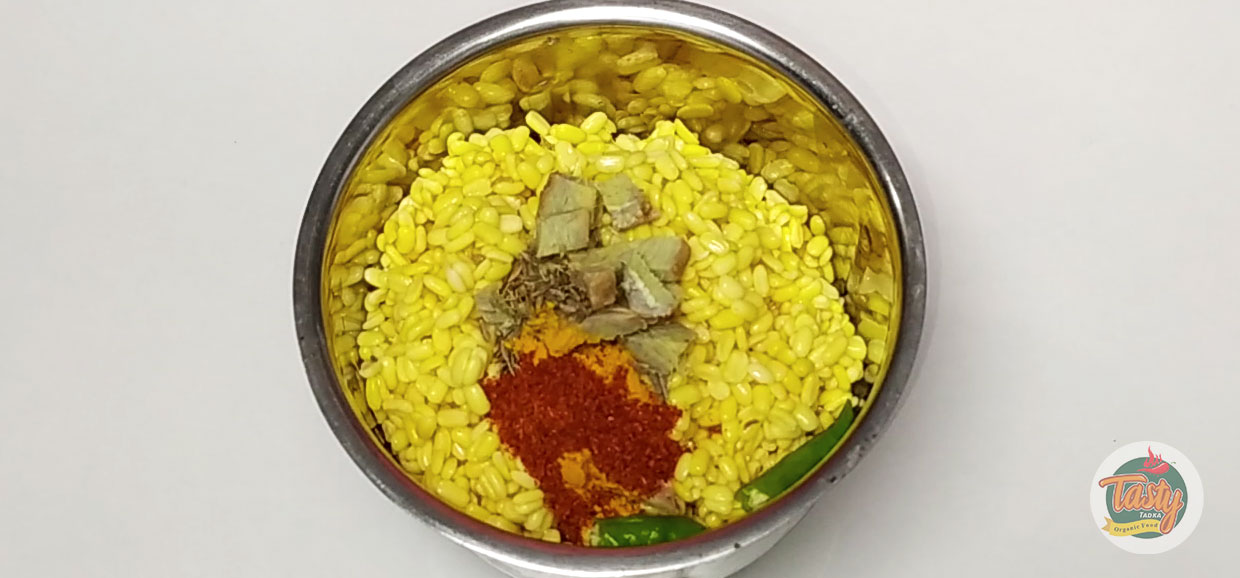 Take one cup of moong dal and rinse it 2 to 3 times in water. Then soak moong dal with 2 to 3 cups of water for about 2 hours. If you are running short of time, then just soak the dal in hot water for 10 minutes and your dal is ready. But when you soak it for a longer time, it absorbs the water naturally and gets soften and healthier. Drain off the water and transfer the dal to the blending jar. Also add 1 chili, 1-inch ginger, 1tsp salt, 1/4 tsp turmeric powder, 1/4 tsp red chili powder, and 1/4 tsp cumin seeds. Blend to smooth paste adding as much water as required.
The batter for the chilla is ready. Let it rest for 5 minutes. And prepare the filling.
For preparing the filling, take a pan on the gas. Add 1 tsp of cooking oil. Heat oil in a frying pan. Add cumin seeds, chopped green chilies, and grated ginger. Fry for 1 – 2 seconds or till seeds starts spluttering. Add chopped capsicum and grated carrots and fry for 1 – 2 minutes. Add salt, spices, red chili powder, coriander powder and mix nicely.
Next, add the grated paneer (cottage cheese) and chopped onion. Turn off the heat. Transfer the stuffing to a bowl.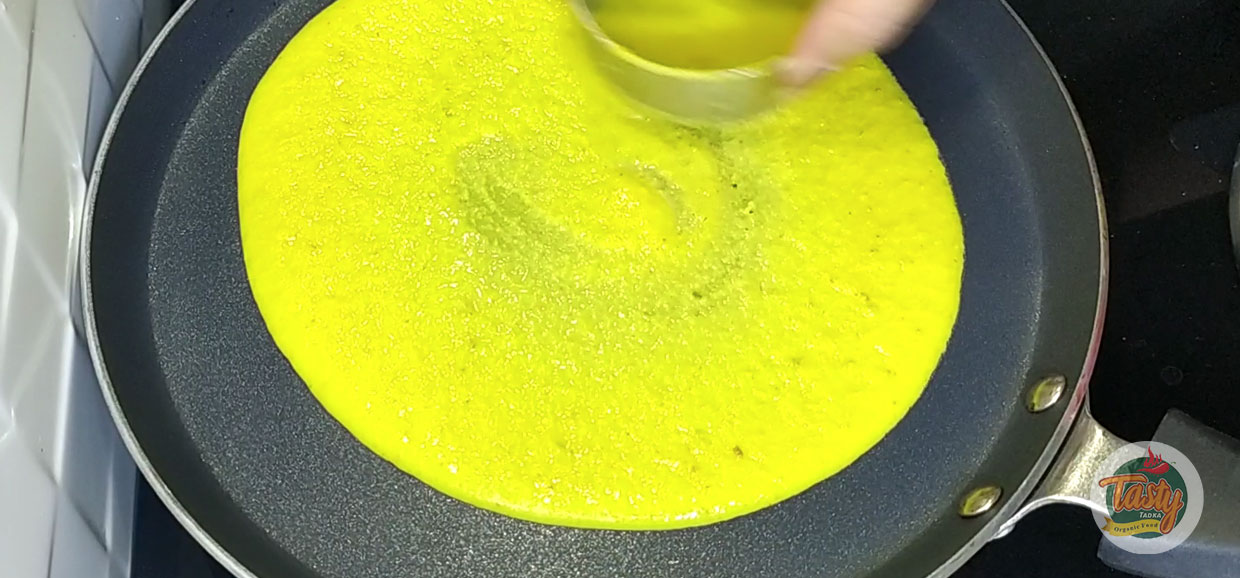 Heat a heavy bottom non-stick pan. Once the pan is hot enough sprinkle water to cool it down (watch video) and grease it with a teaspoon of oil/ghee. Wipe off the excess oil. Pour a ladle full of batter in the center of the pan. Using the back of the ladle, spread the batter in a circular motion into a thin round. Drizzle a teaspoon of oil on the sides of the chilla and cook on medium heat till the underside is done. Once the edges start to brown then insert the spatula under the edges of the chilla to loosen. Carefully flip over, and cook for a minute or so from the other side.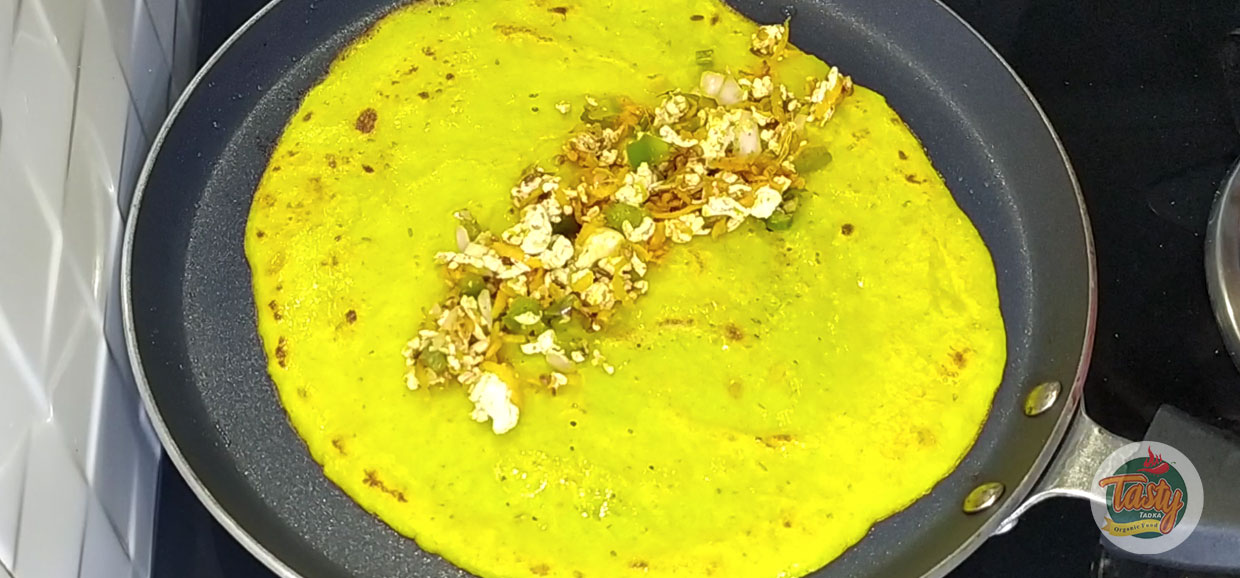 Once chilla is cooked evenly from both sides, keep the filling at the center of chilla and fold the edges.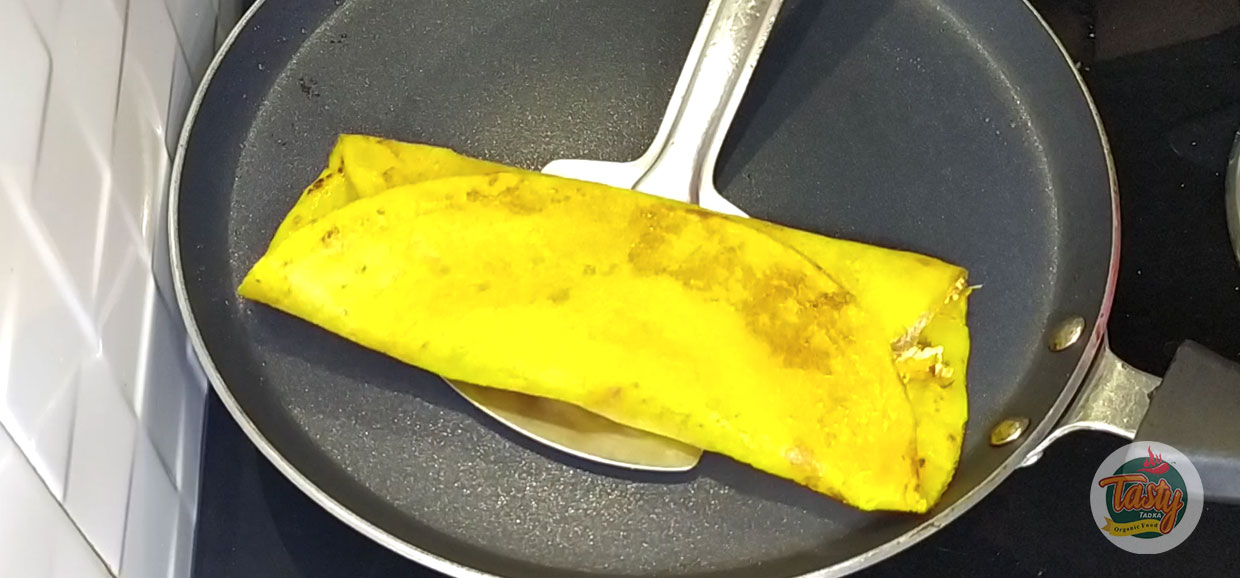 Transfer the hot and crispy chilla to a plate and serve with green chutney.
Serve the Moong dal chilla hot or warm with tomato ketchup or any chutney or dip of your choice. Since moong dal chillas stay soft, you can also pack them in the tiffin box.
Conclusion
The fibre and protein present in the Moong Dal, keep you filled for longer, making it apt for your weight loss diet. If you try this recipe and love it, please leave a Star Rating. This helps us grow and reach many other food lovers like you, who are looking for a perfect tried and tested recipe