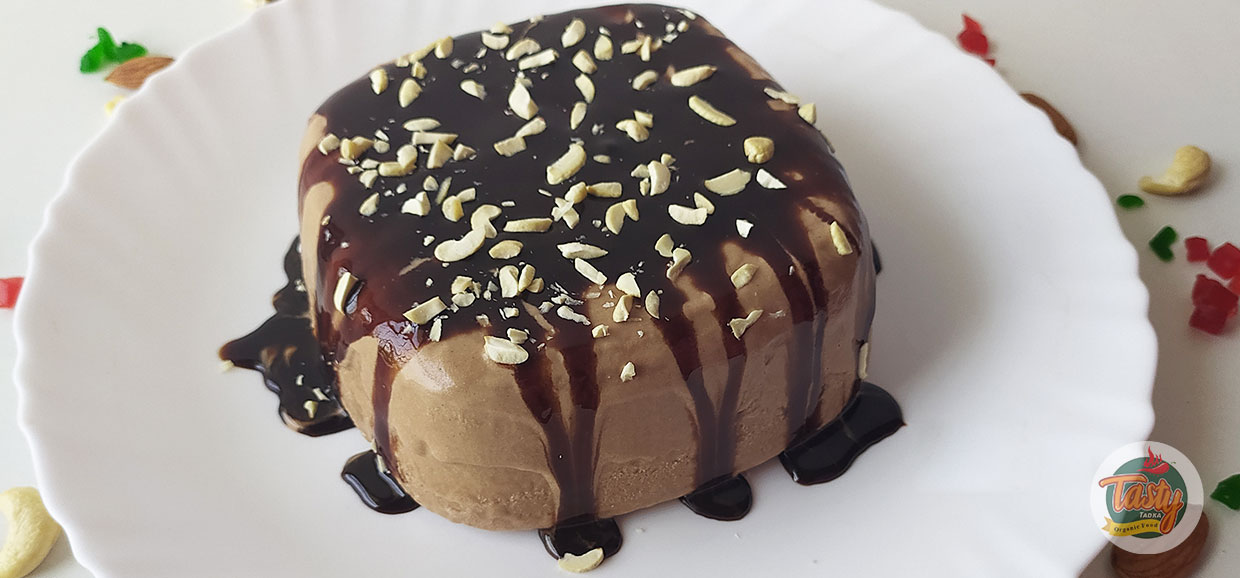 This yummy an irresistible, creamy, homemade chocolate ice cream recipe is a delight for dessert lovers to indulge in! and a dream come true for every chocolate lover out there.
When it is hot outside. The scorching heat of summers drains you and your parched throats are relishing rich, creamy, cool & lip-smacking Chocolate ice cream slowly sliding down!!! Wow! What a serene feeling and a frozen delight … surely can't be expressed through words. Chocolate is always my favorite, of course. So rich and creamy.
The best part of this chocolate ice cream recipe is that there are no ice crystals in the ice cream. You can make this ice cream any time and serve it whenever required. This recipe gives a large block of ice cream. You can even make sundaes or special desserts with this ice cream.
This eggless ice-cream needs no ice-cream maker or special equipment and is super hassle-free to prepare too with just a few ingredients found in your kitchen, blended and frozen to perfection! Serve garnished with cashews or any nuts of your choice, this ice cream recipe is a delight to eat.
You can serve this at a dinner party or just casually serve the kids post-dinner at home.
How to make Homemade Chocolate Ice Cream 
Directions
Only a few things can truly delight us during the scorching summer season like, a glass of chilled milkshake or smoothie or lassi, a bowl of fresh-cut mangoes, and a big scoop of chocolate ice-cream; these are few things that occupy top spots in our 'happy summer check-list'. And we have to admit, we do share a special soft corner for chocolate ice-cream. Rich, creamy & palatable Ice cream is the only dessert that is liked by everyone and in every season. This yummy homemade chocolate ice-cream recipe is a dream come true for every chocolate lover out there and is super hassle-free to prepare too. The best part of this chocolate ice cream recipe is that there are no ice crystals in the ice cream.
Steps to make homemade Chocolate ice cream
Take 700 ml of full cream milk in a pan. Add 3 tablespoons of milk powder to it. Stir well to mix. Switch on the flame and bring the milk to boil.
Add half a cup of sugar and boil the milk. Add 1 cup malai. Stir constantly.
Add two bars of dairy milk chocolate to the milk. Stir well till chocolate completely dissolves in the milk. Dairy milk chocolate takes a longer time to dissolve in comparison with ordinary dark chocolate. I have taken dairy milk chocolate because it is easily available anywhere. You may use dark chocolate instead.
Take two tablespoons of piping hot water. add 1 teaspoon of instant coffee to it and then pour the mixture in the ice cream milk.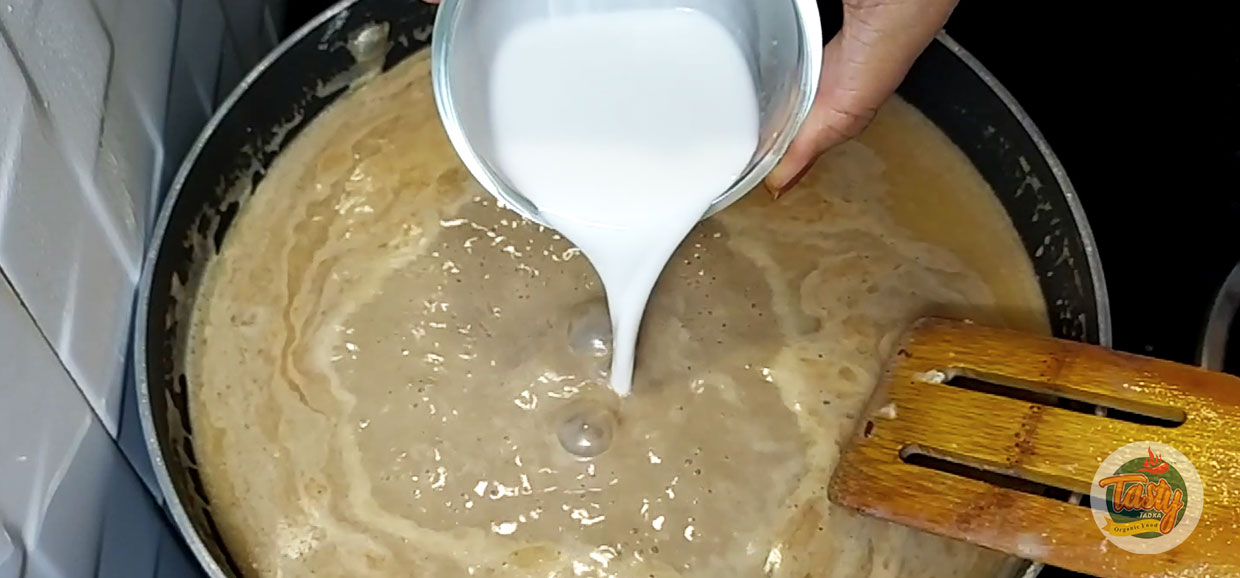 Take 3 tablespoons of cornflour in a bowl. mix with water to form lumpfree mixture. Add this mixture gradually in the milk and keep stirring constantly so that no lumps are formed. Boil on low medium flame until thickens. Remove from the heat and leave it to cool.
When it reaches room temperature, transfer on to a blending jar and blend for around 30 seconds. Pour it in a container with a tight lid. And wrap a cling sheet for double protection. Freeze till 4 hours or till almost set
After 4 hours, take the container out of the refrigerator and whip up in a blender and place it back into the freezer in the same container. The lid should always be tightly shut, as this avoids crystals from forming. Blend once more when almost set and place back in the freezer. Freeze for 8 to 9 hours or overnight or till the ice cream is set.
Before serving, remove the ice cream box from the freezer and let it sit at room temperature for a few minutes. Release the edges, and transfer the whole block in a plate. Drizzle some chocolate syrup on the ice cream if you want and garnish with finely chopped cashews. You may use nuts of your choice as well. You may also scoop out chocolate ice cream with an ice cream scooper. Let the ice cream sit at room temp for 5 minutes to soften enough for easy scooping and serve.
Conclusion
If you like the recipe, please leave a star rating in the comment section below or share the recipe on Facebook, Whatsapp, Twitter & Pinterest.