Crispy Macaroni Snacks come in a variety of forms including packaged snack foods and other processed foods, as well as items made from fresh ingredients at home. Snacks are very important for children because they eat small amounts but at frequent intervals.
That is why they must be given healthy, nourishing snacks. Crispy & crunchy Macaroni snacks can be prepared in less time and can easily replace packaged junk food like kurkure. Though these Macaroni snacks are deep fried but they absorb very less oil so grown ups can munch them as much as they want remaining guilt free.
Children love to munch chips and kurkure anytime. But it's not healthy to provide packaged junk all the time they ask for. You can replace them smartly with Crispy Macroni Snacks that can be prepared easily at your kitchen without any fuss. Crispy Macaroni Snack is easy to make a completely unique snack recipe that is liked by children and adults equally. So, what are you waiting for? Just, get creative with your pasta or macaroni and make something exceptionally unique. This unique snack will wow your guests as well. It's unique and creative too. Give this snack recipe a try, you will be amazed!
To prepare this Crispy Macaroni Snacks, Macaroni is cooked and dried completely and coated in a flour mix, Then it is deep-fried and tossed with aromatic and flavourful seasoning. Finally allow this to cool completely and store in an airtight jar. You can send this delightful snack to school any time you wish, but make sure you pack it in an airtight tiffin box. So that it remains crisp and crunchy. It can be served with a creamy sauce for dipping is a great party snack. If You love pasta, you might actually love this crispy snack as well.
How to make Crispy Macaroni Snacks at home
Directions
Steps to make Crispy Macaroni Snacks
To the fried macaroni add the salt, roasted jeera powder, amchur powder, kala namak, red chilli powder, and chat masala powder. Stir and toss it until the spices coat the macaroni. You can certainly adjust the flavourings to suit your taste. Crispy macaroni kurkure is ready to serve.
Take a large container. Add 2 litres of water. Keep the heat on high, cover with a lid, and let the water come to a rolling boil. Add Macaroni to the boiling water. Add 3-4 teaspoons of cooking oil and around 1 teaspoon of salt to it. Stir a few times. Cook it for 10-12 minutes.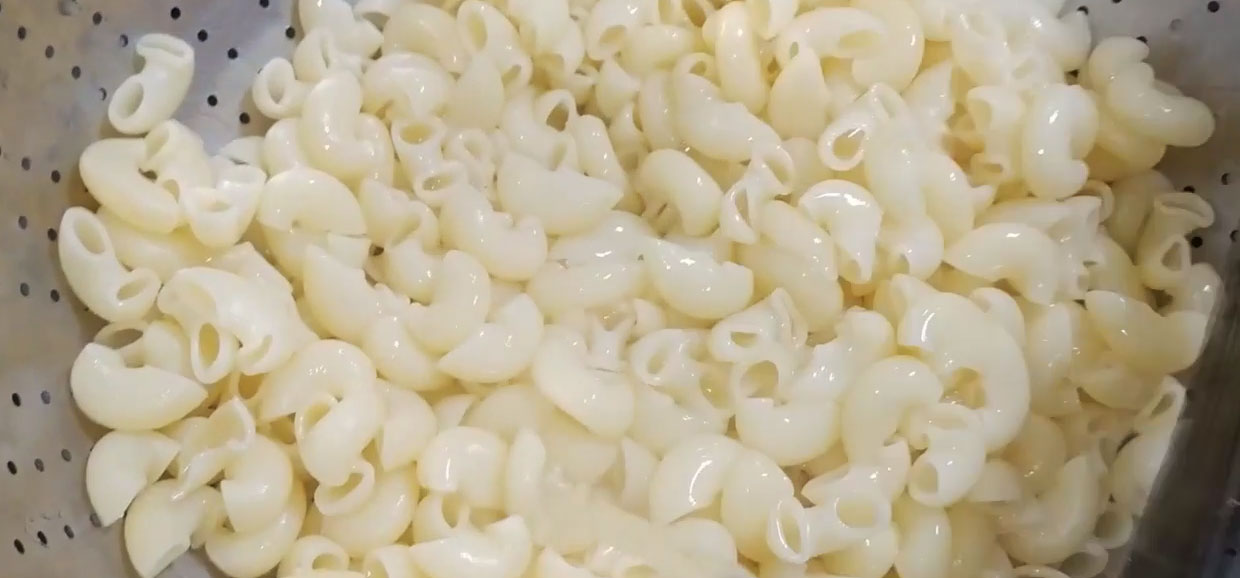 Take it off the heat and strain out the water. Allow the macaroni to cool under running tap water to stop the carryover cooking. Drain well. Keep aside. Let the macaroni remain in the sieve until all the water has drained out and it just remains a bit wet.
Transfer the macaroni to a large bowl. Take 2 tablespoons of cornflour and 2 tablespoons of all-purpose flour in another bowl. Mix them well. Sprinkle this flour mixture over wet macaroni. Stir until well coated. In case the macaroni is a bit wet and sticky, spread it out on a tray and dry it under a fan for about 15 minutes. Do not add more of the flour to dry it; otherwise, the coating will become too thick.
While the macaroni is drying, add oil to the frying pan and turn on the heat. When the oil is hot, turn the heat to medium-high, then add some of the coated macaroni. Fry for about 1 minute undisturbed, then stir it and fry until crisp and golden. Fry the rest of the macaroni similarly.
Conclusion
Leftover macaroni works great to make this recipe. It looks crispy and delicious. I suggest that other seasonings could also be used to change the flavors if desired. I hope you try it and share your experience in the comments section below.